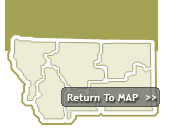 Huntley Project, is a valley of lush crops. The valley is actually made up of four small communities: Huntley, Worden, Ballatine, and Pompey's Pillar.

The name 'Huntley Project' is short for Huntley Irrigation Project, which was the second U.S. Bureau of Reclamation irrigation project. The area was part of the Crow Indian Reservation from 1874 to 1904 when the government purchased the 35,000 acres, stretching across 27 miles from Huntley east to the Little Bull Mountains.

The irrigation headgates opened on the project July 22, 1907, and homesteading began. The Huntley Post Office was established in 1877, one mile upstream from present-day Huntley. It was a stage station and stopping-off place for freighters and travelers. It also served as head of steamboat navigation on the Yellowstone River. In 1882, the Northern Pacific Railroad built a section house and depot a mile east and on the opposite bank of the river, and the growth center of Huntley followed. Since the town was located in the project, the Huntley Irrigation Project name came naturally.

In 1964, the Huntley Project Lions Club organized the first 'Homesteader Days.' The two-day celebration is held each year on the third weekend in July as a memorial to homesteaders who settled the area. The celebration honors a hardy breed of pioneer who came on foot, by covered wagon, or by immigrant train to carve out a fertile valley in a land of sagebrush and greasewood.

The Huntley Project Museum of Irrigated Agriculture is located in the townsite of the early-day town called Osborn. The museum is southern Montana's most outstanding collection of irrigated agriculture artifacts, with over 5,000 items displayed. It is the most complete museum of beet, small grain and early-day machinery, much of which has been restored to original condition and painted with authentic colors.

Huntley is located in southeastern area of Montana, 10 miles northeast of Billings off I-94.


Cities near Huntley Project Montana