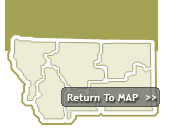 The Bighorn River trout await the angler reaching Fort Smith. Fort Smith businesses offer fishing supplies and fishing tips, lodging, dining lunches for the river trip, groceries, gasoline, and souvenirs.

Boats launch at the Afterbay area to float through some of the greatest trout fishing in the world.

Fort C. F. Smith was established on August 12, 1866, to protect immigrants traveling on the Bozeman Trail from attacks by the Sioux Indians. The Bozeman Trail crossed the Bighorn River 400 yards from the fort. Located near the present town of Fort Smith, all that remains of the site are low mounds and interesting stories. The site is on private land and visitors may see it by making prior arrangements at the Yellowtail Dam Visitor Center. (Located at the dam, the visitor center is operated by the National Park Service and Bureau of Reclamation. It is open in the summer.)

One of the original officers quarters buildings from Fort Custer is now at Fort Smith. Fort Custer was established in 1877, built atop a bluff overlooking Hardin. The building was removed from the fort site and was used as a ranch house for many years, but has now been acquired by a Crow businesswoman and is a Native American gift shop and a bed and breakfast at Fort Smith.

Public programs are offered in the Bighorn Canyon National Recreation Area from Memorial Day through Labor Day. Check at the visitor center for times and places. Fishing and recreation, history and wildlife of Bighorn Canyon are the topics at these gatherings.

Fort Smith is located in south-central Montana, 42 miles south of Hardin on Highway 313.


Cities near Fort Smith Montana