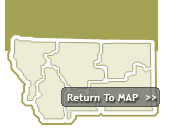 The Glasgow area is rolling plains and open farmland. Established in the late 1800s as a railroad town, Glasgow grew in stature when the Fort Peck Dam was built a few miles south in 1933. One of the world's oldest and largest hydraulic earth-fill dams, Fort Peck Dam stretches over four miles across the Missouri River. The former Glasgow Air Force Base was a centerpiece for the community for years. The large 13,500 ft runway and 67 buildings of the base are in good repair.

On May 8, 1805, the first 'tourist' to this region, the Lewis and Clark Expedition, camped at the confluence of the Milk and Missouri rivers, about 18 miles southeast of present-day Glasgow. Lewis explored the Milk for about three miles and said, 'The water of this river possessed a peculiar whiteness, being about the color of a cup of tea admixture of a tablespoon full of milk. From the color of its water, we called it 'Milk River.'
While in Glasgow, visit the Valley County Pioneer Museum for its fossils and Indian artifacts, and railroad, early business, aviation, and wildlife collections. Inquire at the Chamber of Commerce about other Glasgow highlights.
Leaving Glasgow, head southeast on Montana Highway 24 for about 18 miles to Fort Peck and Fort Peck Lake, traversing a mixture of rolling and level country. Once you see the lake, you realize that you're looking at the largest body of water in Montana. Fort Peck Lake has almost 1,600 miles of shoreline and is backed up for 134 miles behind the dam. The shoreline is equal to the total coastal front of the state of California.
Montana's Governor's Cup Walleye Fishing Tournament, held the second weekend in July at Fort Peck, is a national event. Contact the Glasgow Chamber of Commerce for information. Also ask them about fishing guides and boat rentals.
Charles M. Russell National Wildlife Refuge; many roads lead to Fort Peck Lake through the CMR area. Make sure you inquire for conditions and directions, either at the Glasgow Chamber of Commerce, the Bureau of Land Management in Glasgow or the Fort Peck CMR Refuge Office, located on Highway 117. Before leaving Glasgow, make sure you visit the South Valley Wildlife Viewing area for an opportunity to see antelope, deer and other animals. The road route is about 65 miles long and can take three hours or more depending on how much time you have and what you want to see.
Elevation: 2,090 feet.

Glasgow is located in northeastern Montana, northwest of Fort Peck Dam.


Cities near Glasgow Montana