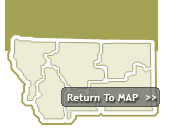 Saco is in the heart of the Milk River Valley and was founded in about 1892. How the town took its name is not certain. One version is that it comes from a contraction of Sacajawea's name, the Shoshone woman who accompanied the Lewis and Clark Expedition. Another explanation is that Saco was chosen by the globe-spinning, finger-pointing method used for other Hi-Line communities when the railroad was established.

The Larb Hills, south of town, present interesting country to explore and Nelson Reservoir is nearby if you'd like to fish. You'll need to spend the night in the Saco area or in Malta, twenty-eight miles away. Then allow another full day or more to enjoy Nelson Reservoir or the wild country to the south.
Saco features a museum located in a renovated one-room county schoolhouse, the Huntley School, named after Chet Huntley who attended the school and went on to become a famous TV newscaster.
Nearby at Nelson Reservoir, there is a large stone resembling a sleeping buffalo. This boulder, left behind by a glacier that once covered portions of northeast Montana, has many Indian legends attached to it. One is that touching the rock brought good fortune for hunting and doing battle. The Plains Indians revered it. It was moved to its present location along US Highway 2, about 15 miles east of Malta, from its previous resting spot, a few miles to the north near the Cree Crossing on the Milk River. This was a trail followed by the Chippewa-Crees coming south from Canada to hunt buffalo. The land around Saco and Malta once shook from millions of buffalo hoofs.

Saco is located in northeastern Montana, east of Malta on US Highway 2.


Cities near Saco Montana