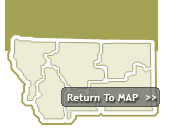 Lame Deer and Ashland are located on the Northern Cheyenne Indian Reservation. These two towns are big in cultural appeal. A historical buffalo, burial sites of Indian Chiefs, Custer's last camp before the Battle of the Bighorn, the Cheyenne Indian Museum, Ten Bears Gallery, Saint Labre Indian School and the Ashland Powwow are of special interest in the Ashland area. Lame Deer is tribal headquarters and the site of the offices of the Bureau of Indian Affairs. It is also home of the Northern Cheyenne Annual Powwow which take place every July 4th, with competitive Indian dancing, contests, parades, etc. Places are available to camp and photography is encouraged. Cheyenne Trail Rides are also available.
The Northern Cheyenne Arts and Crafts Center features Cheyenne-made crafts, such as moccasins, belts, jewelry and other beaded gifts, souvenirs and decorator items. The Crafts Center is located on the eastern edge of Lame Deer, along US Highway 212.

Lame Deer is located southeastern area of Montana, southeast of Hardin on US Highway 212.


Cities near Lame Deer Montana