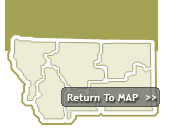 Fort Belknap Indian Reservation, located between the Milk River and Little Rocky Mountains, is home to the Gros Ventre and Assiniboine tribes. Tours of Snake Butte, Mission Canyon, Bear Gulch and Saint Paul's Mission may be offered. Watchable wildlife include a buffalo herd, deer, antelope, migratory waterfowl and upland birds (353-2205).
Fort Belknap Ventures features handcrafted Native American arts and crafts. Staff provides tours of the Mission, the Snake Butte, ancient tepee rings and the tribal buffalo pasture.
The combined reservation and additional tribal lands encompass 705,067 acres of the plains and grasslands of north-central Montana.
Annual events include Milk River Indian Days and Hays' famous all-Indian Rodeo, Powwow and Fair in July.

Fort Belknap Agency is located in north-central Montana, east of Havre on U.S. Highway 2.


Cities near Fort Belknap Montana